COMPANY HISTORY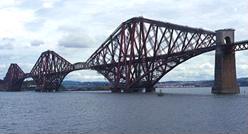 Red Bridge Consulting was set up by a group of independent consultants in 2003, to provide our clients with a better range of services than any of us could individually.

Our name comes from the famous Forth Rail Bridge in far-off Scotland, birthplace of Red Bridge Consulting's founding consultant. This bridge has for more than 100 years dominated the Firth of Forth, a symbol of strength to some, an icon of man's achievements to others, and of course for many people, simply a time-saving short-cut to their destination.

Here at Red Bridge, we aim to mirror these qualities; providing high quality services; bridging gaps in our clients available resources; quickly and effectively connecting your company with your clients.

But just as importantly, we all love what we do! Whether it's providing a client with a strategy to break into China, setting up an IT development centre in Bangalore, or pulling together a Tender Response document in Singapore, our reward is in the achievement of a shared goal, in the delivery of vital service to our client. That's what drives us to go that extra mile and to put in the extra effort. Of course the money's nice too...